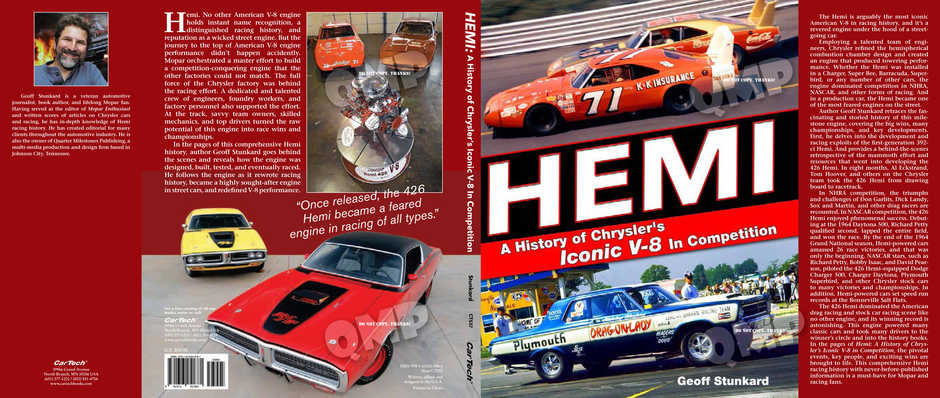 ISBN 978-1613251881
Geoff Stunkard's highly-regarded narrative on the development and history of the Chrysler 426 Hemi in auto racing is available direct from the author, personally noted and signed with special enclosures unavailable from any other retail outlet. The 192-page volume, published by CarTech and profusely illustrated in full color, relives the remarkable developments that led up to the engine's debut at the 1964 Daytona 500, the personalities, the packages, and
politics during America's golden era of auto racing. From the base stripped-down models to the million-dollar '71 Hemi'cuda drag cars, from the early A864 packages to the legendary winged warriors of 1970-71, this is the definitive history of the cadre of factory engineers and determined racers put the 426 Hemi into the history books and hearts of millions of fans worldwide.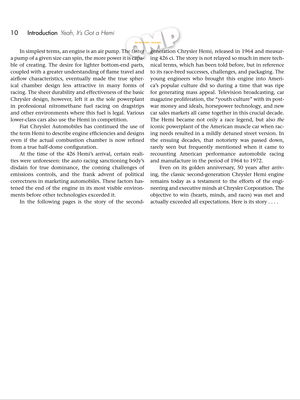 ORDER THE BOOK HERE!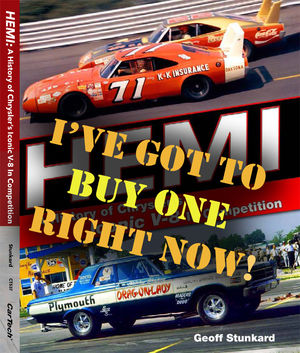 Working closely with the late Tom Hoover, the Chrysler engineer considered by many to be the godfather of the 426 Hemi engine, Stunkard was able to develop heretofore unknown insights about the A864, A990, and A102 HEMI package releases and fresh material on the prototype A925, A148 and A279 engines. Then, using a data base of interviews gathered over the past quarter-century as well as numerous historical references in period newspapers and magazines, the story is told of how the race engine dominated wherever it showed up and was finally 'legalized' out of competition. Rather than a technical treatise, this volume revolves around the 1964-1971 racing programs – the guts and the glory, the noted participants, the special race-only car packages. Ray Nichels, Ronnie Sox, Bobby Isaac, Dick Landy, the Pettys, the Ramchargers, Don Garlits, Snake & Mongoose, David Pearson, Arlen Vanke, Ramo Stott and the list goes on. From Top Fuel to Stock, from NASCAR to ARCA, with sidebars on land speed and drag boat efforts, this book will tell you the HEMI engine's story that has never been told before.
EXCLUSIVE VIDEO: SEE BIG DADDY DON GARLITS BUILD AN IRON 426 FUEL HEMI FOR SWAMP RAT VIII and fire it up…INSIDE THE GARAGE!
Making extensive use of historical and restored racecar images, as well as numerous vintage competition parts and photo collections, there has never been a book on this engine as well-illustrated as HEMI: A History of Chrysler's Iconic V8 in Competition. View the rare inverted NASCAR tunnel ram, the 1967 Vanke SS intake, an unmachined 1965 cylinder head, A148 'monster Hemi' parts, and many others. Thanks to the efforts of Mr. Hoover, C.R. Racing, Jim Kramer / Kramer Automotive, the Wellborn Musclecar Museum, the Eastern Museum of Motor Racing, the Tommy Erwin Archive and other noted photo collections, the heroes of HEMI history are shown in action, as well as Stunkard's own noted magazine photography of some of the best restorations and tributes in existence. Through this webpage, some of the book's hundreds of images can be ordered for display as well!
ORDER THE BOOK HERE!